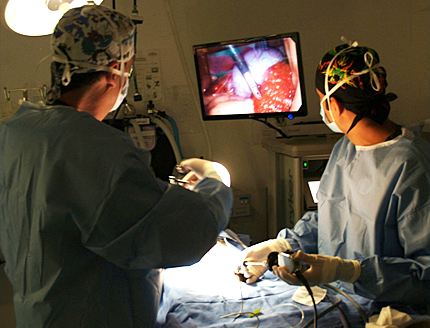 Dr. Fischer, a Southern California Native, graduated from California State Polytechnic University in Pomona with a Bachelor of Science degree in Animal Science/Pre-Vet.  He received his Doctorate of Veterinary Medicine from Ross University completing his clinical rotation at Oklahoma State University.  After more than 10 years in private practice as an owner of a large practice in Florida, Dr. Fischer's love for surgery led him to return to California where he completed a surgical residency. 

Dr. Fischer is a Diplomate of the American College of Veterinary Surgeons and has been providing specialty surgical services to over 50 Southern California Veterinary Hospitals for over 10 years.   Dr. Fischer's team of technicians, who have over 25 years of combined experience, assist Dr. Fischer in providing your family veterinarian with specialized surgical services in the familiar surrounding of your family veterinarian's hospital where they are familiar with your pet's medical history and special needs.

Dr. Fischer and his team have the experience and specialized equipment to perform a wide variety of specialized and technically complex surgical procedures including TPLO (Tibial plateau leveling osteotomy), Medial Patella luxation repair ((MPL), complex fracture repair, as well as a wide variety of complex soft tissue surgeries including liver lobectomy, lung lobectomy, unilateral Arytenoid cartilage lateralization for laryngeal paralysis, GI and urinary tract surgeries and a wide variety of surgical mass removals.  

Dr. Fischer also has a special interest in minimally invasive surgery and has received extensive training and has extensive experience in minimally invasive procedures.  Minimally invasive surgery allows your pet to have the needed surgical procedures performed with less pain and a quicker return to their normal life.  Some of the procedures commonly performed include Cystoscopy for urinary calculi removal or bladder mass removal or biopsy, liver biopsy, Gastropexy, Ovariectomy, and a variety of thoracic procedures. 

Dr. Fischer and his team are committed to assisting your family veterinarian and their hospital in providing you and your pet with the most convenient and up-to-date specialized surgical care possible.

© 2011 Howard Fischer DVM DACVS. All Rights Reserved.